​The CAREN Project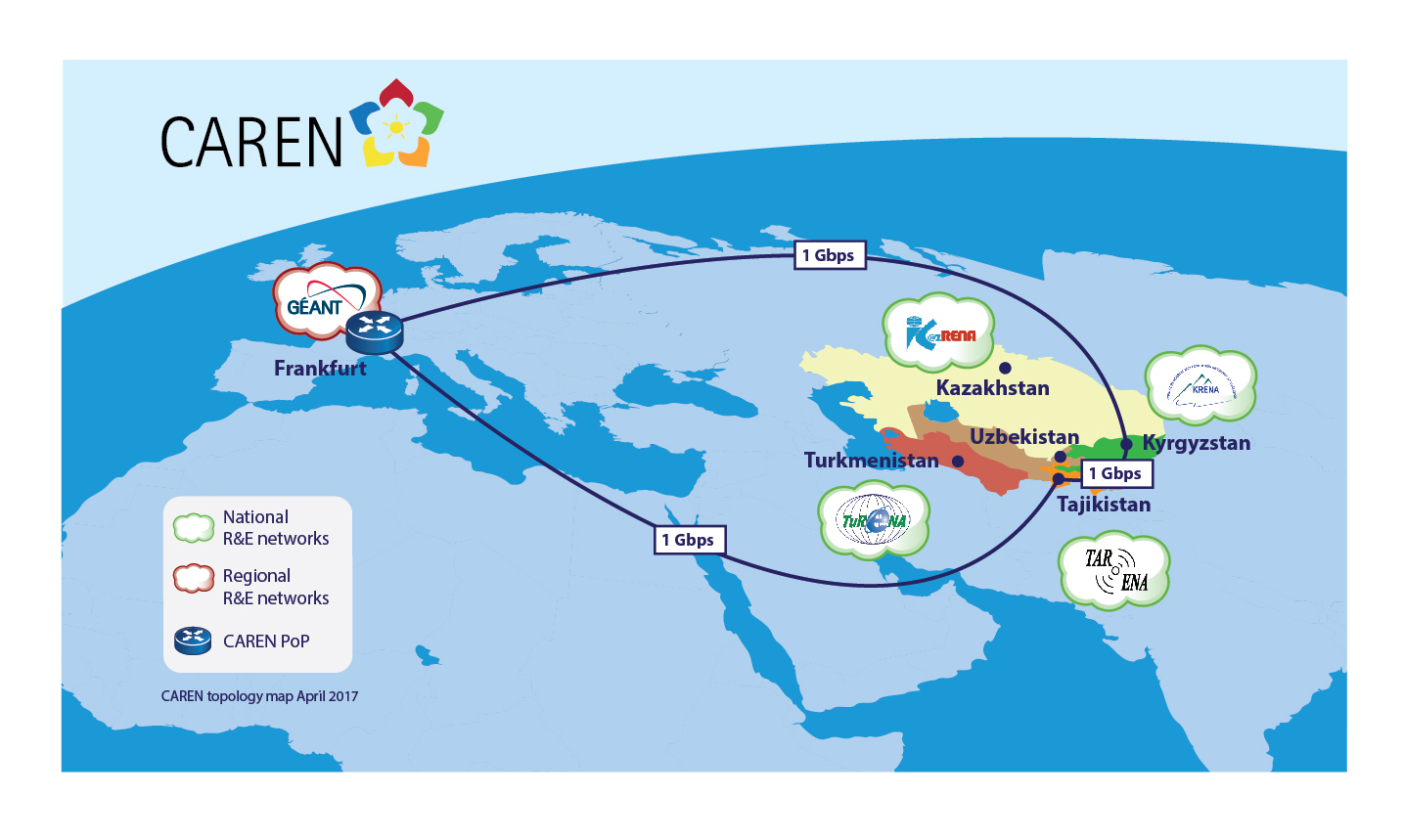 CAREN topology as of April 2017
Launched in January 2009, the Central Asian Research and Education Network (CAREN) project set out to establish a high-performance broadband internet for research and education (R&E), facilitating communication, information exchange and collaboration between universities, teaching hospitals and research centres within Central Asia and providing access to the European and global research community through interconnection to GÉANT, its European counterpart.
CAREN aims to:
Establish

and operate a high-capacity broadband internet network for research and education in Central Asia.

Improve

intra-regional connectivity across Central Asia by replacing existing low-capacity satellite connections with terrestrial fibre.

Facilitate

R&E collaborations between Central Asia and Europe via connection with GÉANT.

Seek

synergies with user communities in neighbouring regions, i.e. Asia-Pacific (TEIN) and Eastern Partnership countries (EaPConnect).


Act

as a catalyst for the development of sustainable national research networking in the five former Soviet republics of Kazakhstan, Kyrgyzstan, Tajikistan, Turkmenistan and Uzbekistan.

Decrease

the digital divide, combat brain drain and promote regional development and cohesion.

Support

and promote collaborative network applications in areas of high societal impact, such as telemedicine, seismology, distance education, energy and water resources management and environmental studies.

Pave

the way for sustainability of the network after the CAREN project terminates.
Project phases & capacities
During the first phase of the CAREN project (2009-2013) network links were successfully implemented with minimum link capacities of 34Mbps. The second phase started in October 2013 and terminated in August 2015. The third phase - CAREN3 - will run until 2019.
CAREN3 will initially reconnect Kyrgyzstan and Tajikistan where the governments have signed bilateral financing agreements with the EC. Kazakhstan, Turkmenistan and Uzbekistan are also eligible to join the project subject to EC approval and similar government financing agreements.


Funding
During the first phase of the project the European Commission (Directorate-General for International Cooperation and Development (DG DEVCO) contributed 80% (€5m) towards the costs of the project from its Development Co-operation budgets, with the remaining funds being provided by the partners on the basis of a cost-sharing model. During CAREN2, the EC contributed 90%; (in total €3.2m).
The initial EC contribution to CAREN3 is €4.5m.
CAREN forms part of the EC's Central Asia Strategy and plans for long term funding support of the project are being prepared.