​From an Ancient Trade Route to a Virtual Highway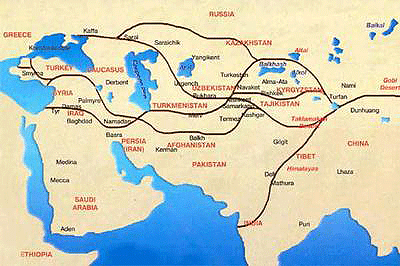 The Silk Road was the information super-highway of its age, serving as the conduit not only for goods but also for the transmission of knowledge and ideas between east and west. As merchants and other travellers traversed this ancient trading link between Asia and Europe, they also carried with them culture, art, philosophies, beliefs and ideas.

Just as the ancient trade route brought regions closer together, over 2000 years later the 'Virtual Silk Highway' (a.k.a. the Silk Project) was launched to facilitate the exchange of ideas and information between academic institutions in Eurasia. Funded by NATO, over the last 10 years the Silk project has successfully established a first regional research and education network in the Southern Caucasus and Central Asia. Originally deploying satellite technology, the Silk project more recently started upgrading to fibre optics.
As a natural progression and to overcome capacity issues, the Central Asian Research and Education Network (CAREN) replaces the Virtual Silk Highway, and provide universities and research centres across
Central Asian with a broadband internet connection. An EC/AIDCO supported feasibility study concluded that the Central Asian region as a whole was fit for a regional network project (CAREN) to connect the academic communities to GÉANT through fibre optic connections. CAREN will build on the achievements of the Silk project as well as the EC-funded OCCASION project which managed the former.
The NATO funding for the Silk project was generously extended to June 2009 to allow a seamless transition to the new CAREN network.
Kyrgyzstan, Tajikistan, Turkmenistan became project partners in July 2010;  Kazakhstan joined at the start of 2012. 
In August 2015 the project was temporarily closed whilst financcial agreements for the next phase were geotiated between the Ec and the partner countries. In June 2016 the 3rd project phase was launched (CAREN3), initially connecting Kyrgyzstan and Tajikistan where the governments have signed bilateral financing agreements with the EC. Kazakhstan, Turkmenistan and Uzbekistan are also eligible to join the project subject to EC approval and similar government financing agreements.