​CAREN and Hanns-Seidel Foundation join forces to promote democracy and rule of law
Cambridge, UK | 22 April 2015
At the beginning of April, Master's Degree students at the Institute of Public Administration under the Executive Office of the President of the Republic of Tajikistan (IPAPT) participated in a lecture by Prof. Ursula Männle, Chair of the Hann​s Seidel Foundation (HSS), on the Foundation's mission and educational activities to promote democratic awareness and rule of law around the world and to foster capacity building of aspiring civil servants.
Joining the students in Dushanbe via a live video link from the KRENA office (Kyrgyz NREN), Prof. Männle outlined the Foundation's strategy to equip people with the skills needed to become actively involved in shaping their communities and to meet the needs of governments for professional policy-makers by actively supporting public policy training programmes, such as the MPA at IPAPT.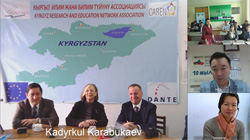 Interacting remotely (but seamlessly) with IPAPT's rector and the students as well as with the HSS regional office in Bishkek – which got recently connected to the KRENA network - Prof. Männle was impressed with the quality and high-definition images of the videoconference over the national TARENA and KRENA as well as the regional CAREN networks. Max Meier, head of the HSS office in Bishkek, announced that the graduation ceremony of MPA students at IPAPT in December would feature a live video link to convey congratulatory messages from the Headquarters of HSS in Munich, Germany.
The remote lecture follows the signing of a MoU between HSS and the CAREN project to foster collaboration and harness CAREN's connectivity and services for distance learning.