​Gastric cancer specialists discuss clinical cases in a remote session - with an Ambassador amongst their midst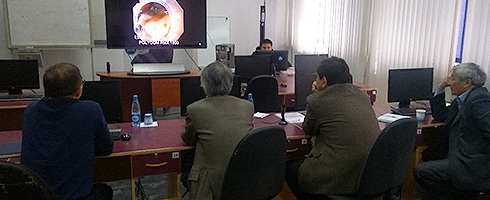 Cancer patients are more likely to survive with early diagnosis and appropriate treatment. However, geographic remoteness and lack of specialised resources often prevent access to this vital lifeline. Extending and improving patient care is at the very heart of telemedicine, with advanced R&E connectivity linking doctors and patients irrespective of location, providing teleconsultations and remote training.

An unusual participant in a telemedicine session
In Central Asia, telemedicine is a reality, with the medical and CAREN NREN community having recognised the life-saving potential of it early on and engaging in regular clinical case discussions over stable video links. However, having an Ambassador among their midst is a first.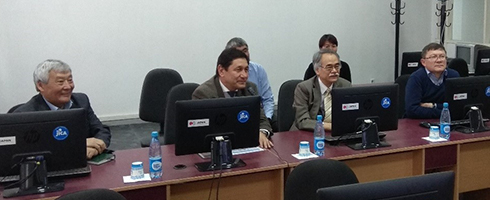 Front row: Kadyrkul Karabukaev, Director of KRENA; Askar Kutanov, CEO CAREN CC; H.E. Yoshihiro Yamamura, Ambassador of Japan to the Kyrgyz Republic; Dr. Mamiraim Dzhumabaev, Head of Gastroenterology Department, National Center of Cardiology and Internal Medicine in Bishkek


Last week, upon the invitation by the CAREN Cooperation Center (CAREN CC), H.E. Yoshihiro Yamamura, Ambassador of Japan to the Kyrgyz Republic, joined Central Asian medical professionals and representatives of CAREN CC and the Kyrgyz NREN KRENA in Bishkek to remotely participate in the 3rd "Endoscopy Teleconference with Russia". Organised by the Telemedicine Development Centre of Asia (TEMDEC) at the Medical School of Kyushu University in Japan, the event saw participation from endoscopists across Russia, Japan and Kyrgyzstan, sharing best practise on pre-treatment staging, endoscopic treatment approach and post-treatment management of early gastric cancer.
A strong and life-saving bond between Japan and Central Asia

Growth of telemedicine across Asia-Pacific and in neighbouring regions, such as Central Asia, is closely linked with Professor Shuji Shimizu at Kyushu University Hospital in Japan, Director of TEMDEC. Running since 2002, TEMDEC enables remote training of surgeons and the spread of best practice by using research and education networks to transmit high-quality, real time images of a live endoscopy event for clinical case discussions to multiple locations, thus spreading best practice and knowledge transfer. Recently, Prof. Shimizu invited Dr. Mamiraim Dzhumabaev, Head of the Gastroenterology Department at the National Center of Cardiology and Internal Medicine in Bishkek for a one-month internship at Kyushu University for specialist endoscopic training. Dr Dzhumabaev also participated in this teleconference and had the opportunity to share the experiences and impressions of his stay in Japan with the Ambassador.

By attending, the Ambassador had a first-hand opportunity to witness high-quality specialist video training powered by R&E networks, such as CAREN and TEIN, and recognised the fruitful relationship between TEMDEC and CAREN in spreading innovation in healthcare by enabling remote endoscopic training and ultimately improving patients' lives.



The National Information Technology Center (NITC) hosted the delegation in Bishkek.
View the programme of the 3rd "Endoscopy Teleconference with Russia" here. 

More information: