​CAREN project brings Gigabit-speed connectivity to Central Asia​
Bishkek, Kyrgyzstan and Cambridge, UK | 25 April 2017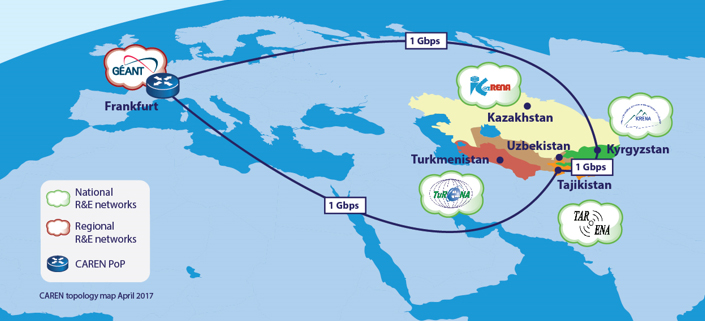 Researchers, academics and students in Central Asia and Europe are already starting to benefit from the recent deployment of a ring of 1 Gbps circuits for research and education (R&E) across the regions, officially inaugurated today at the start of the 2nd CAREN Regional Networking Conference (CRNC 2017) in Bishkek, Kyrgyzstan.
The new connectivity is a key component of the EU-funded Central Asia Research and Education Network (CAREN) project which – now in its 3rd phase - sets out to create a sustainable, high-capacity data network serving higher education and research institutions across the region. 
Initially, CAREN3 connects the Kyrgyz and Tajik R&E communities to their peers in Europe and the rest of the world via links from Bishkek (Kyrgyzstan) and Dushanbe (Tajikistan) to the CAREN network hub in Frankfurt, where they interconnect with the pan-European GÉANT network. In addition, for the first time, direct connectivity within the region has also been deployed between the Bishkek and Dushanbe sites, paving the way for a truly regional high-speed R&E backbone in Central Asia. 

With €10M EU funding up to 2019, the third project phase started in June 2016, initially with Kyrgyzstan and Tajikistan as beneficiaries following the signing of co-funding agreements between their governments and the European Commission. Work is underway to also re-establish project participation for Kazakhstan and Turkmenistan; Uzbekistan is also eligible to join.


Themed "Empowering the Central Asian research and education communities through global high-speed networking" and jointly hosted by KRENA, the Kyrgyz Research and Education Network Association and Kyrgyz Turkish Manas University, CRNC 2017 brings together practitioners from the Central Asian research and higher education community, policy makers, connectivity providers, ICT vendors and will also draw on the expertise of representatives from other regional networks and organisations, such as GÉANT, TEIN*CC (Asia-Pacific) and the UbuntuNet Alliance (Southern Africa).  
Over the next two days, participants will hear and see first-hand from scientists and academics how CAREN's high-speed links make a real difference in advancing collaborative research in areas such as environmental studies, seismology, telemedicine and preservation of natural and cultural heritage. In addition, presentations will outline how e-learning and remote training opportunities make education and knowledge transfer more accessible.

CRNC 2017 will also celebrate the official launch of the CAREN Cooperation Center (CAREN*CC)  which was established by the CAREN partners as a not-for-profit organisation, based in Bishkek, to promote R&E networking throughout the Central Asian region and to maximise the impact of CAREN.

​

About CAREN
Launched in 2009, the EU-funded Central Asia Research and Education Network (CAREN) project sets out to provide a high-capacity internet network for the research and education (R&E) communities in Central Asia. A new project phase (CAREN3) started in 2016, which currently interconnects the R&E communities of Kyrgyzstan and Tajikistan. Links to other regional networks, such as the pan-European GÉANT backbone, give CAREN global reach, allowing seamless data exchange and collaboration between researchers and educationalists in Central Asia and the rest of the world.  
Up to August 2019, CAREN is co-funded with €10M by the European Union via the European Commission's Directorate-General for Development and Cooperation (Grant Contract DCI-ASIE/2016/372-47). Additional contributions are being provided by the participating countries.
The project is operated and managed by research networking organisation GÉANT, in partnership with the national research and education networks (NRENs) of the participating partner countries.
Website: https://caren.geant.org  https://icaren.org 
Facebook:@I-CAREN​
About GÉANT 
GÉANT is Europe's leading collaboration on network and related e-infrastructure and services for the benefit of research and education, contributing to Europe's economic growth and competitiveness. The organisation develops, delivers and promotes advanced network and associated e-infrastructure services, and supports innovation and knowledge-sharing amongst its members, partners and the wider research and education networking community.
Website: www.geant.org 
Twitter:@GEANTnews 
Facebook:@GEANTcommunity​​
​

About CRNC 
CRNC is the research and education networking conference for Central Asia and was held for the first time in October 2014 in Almaty, Kazakhstan. CRNC brings together academia, scientists, decision makers, ICT specialists and industry representatives that have as common interest in the provision of advanced ICT services for research and higher education institutions across the Central Asian region and internationally. CRNC2017 is jointly hosted by KRENA, the Kyrgyz Research and Education Network Association and the Kyrgyz Turkish Manas University and is organised as part of the CAREN3 project.
Website: https://crnc2017.icaren.org/en/​
Contact:
Helga Spitaler
Senior Communications Officer
GÉANT
helga.spitaler@geant.org​